Choosing the color of your billiard table's cloth is a crucial decision that can influence both the aesthetics of your game room and your playing experience. Not only is the color of the mat a matter of personal preference, it can also have an impact on the visibility of the balls and, consequently, on the quality of your game.
Here are a few tips to help you choose the ideal cloth color for your billiard table:
Consider the aesthetics of your space
Before making a decision, consider the aesthetics of your billiard room. The color of the cloth should harmonize with the rest of the room. If your game room has a classic decor, neutral colors like black, ecru or taupe can be excellent choices. On the other hand, if you prefer a bold, modern look, blue or other bright colors like purple or orange may be more appropriate. With over twenty cloth colors to choose from, you're spoilt for choice when it comes to personalizing your Toulet billiard table.
Think ball visibility
One of the most important aspects of mat color is its impact on ball visibility. Ideally, the mat should offer adequate contrast so that you can clearly see the balls during play. With over 25 ball colors to choose from, the number of combinations offers multiple possibilities for creating your own set of balls in harmony with your billiard cloth.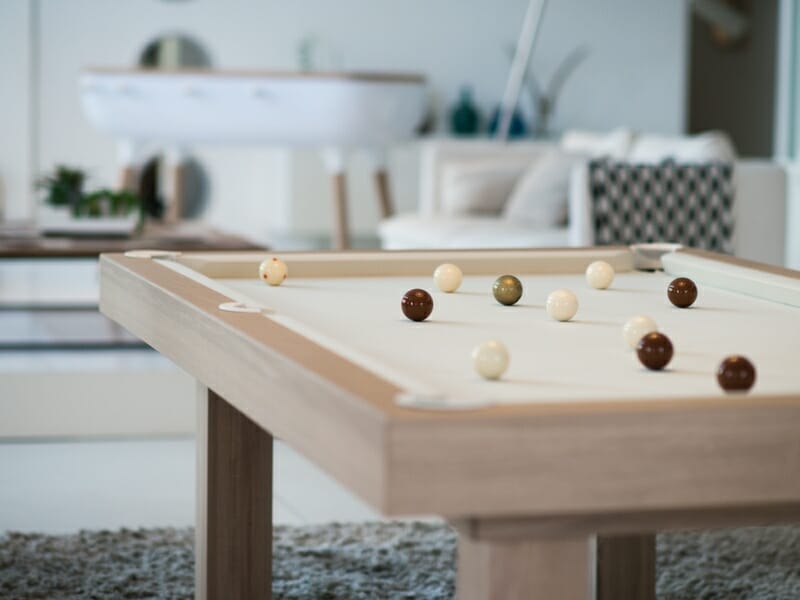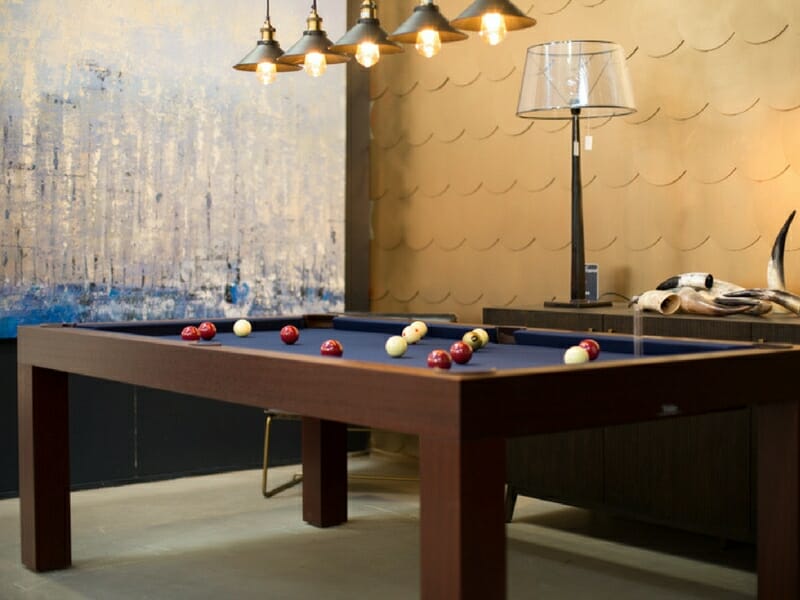 Take room lighting into account
Cloth color can vary according to the lighting in the room. So it's essential to take lighting into account when choosing a color. Make sure the cloth color will be visible and attractive under the lighting in your playroom.
Opt for tradition or originality
You can choose to follow tradition by opting for a shade of green. However, if you prefer something more original, there are many billiard cloth colors to choose from, from bright tones like red to customized colors to suit your style.
Ask our experts for advice
Our team of enthusiasts accompanies each customer in the realization of their project. Personalization is a crucial phase in the acquisition of a billiard table that reflects your personality. Our experts can advise you on current trends, material and color combinations, and how to integrate the billiard table into your room. This experience will enable you to make an informed decision and ensure that your billiard table meets your expectations in terms of aesthetics and performance.
You can also test customizations on the online 3D configurator. A fun and practical tool for visualizing your choices.
Choosing the color of your billiard cloth is a personal decision that depends on your aesthetic preferences, your playing style and the ambience you wish to create in your billiard room. Make sure the color you choose offers adequate visibility of the balls and blends harmoniously with your playing space.