What type of yacht are we talking about ?
The term "yacht" encompasses several types of boats. Initially, it referred to both pleasure sailboats and motorized yachts. Over time, it was used more and more for luxury motor boats. Indeed, when we talk about yachts, we immediately think of large luxury boats. The term has been used in particular according to the size of the yachts. Super-yacht for over 40 meters and Mega-yacht for over 60 meters.
Luxury yachts
The field of luxury yachts is constantly developing and innovating to offer true villas on the water where all the amenities are found. They are often custom-built according to the demands and expectations of future owners. Everything is achievable. Gym, swimming pool, jacuzzi, bar, cinema room, etc. The older ones even have a helipad : a helicopter pad.
Whether for owners or renters, the luxury yacht is a boat to be enjoyed with friends and family. So it makes sense to find any type of entertainment. The place of pool tables in entertainment and games is well established. It is easy to be able to install it in a house, but what about a pool table on a yacht ?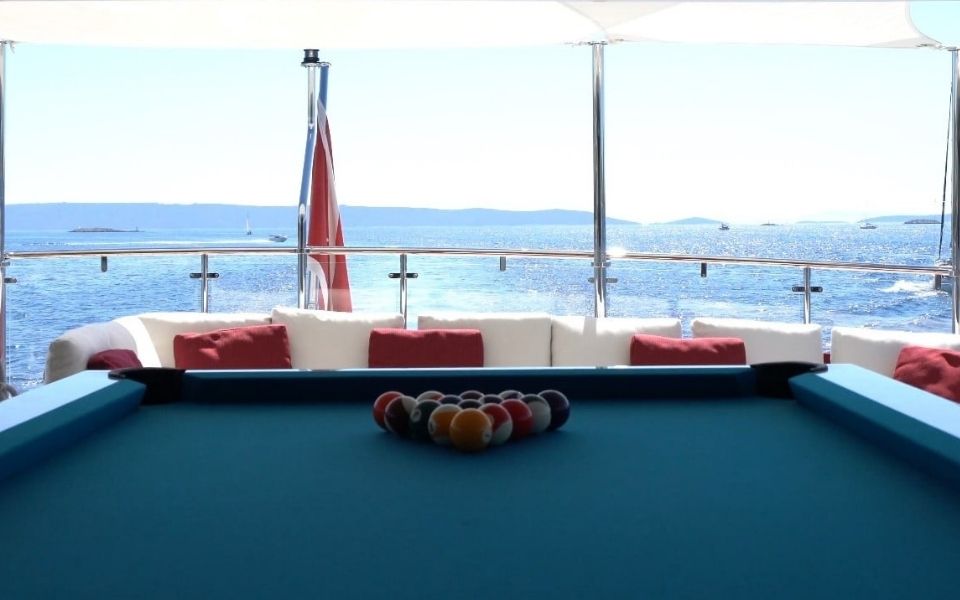 When yacht and pool table harmonize
In order to take advantage of this leisure activity, especially at sea, Billards Toulet has taken up the challenge. High-end, customizable and gyroscopic billiards are now available. Designed in partnership with the Norwegian company Stable on Board, these are equipped with a stabilizer to keep them level and play in all circumstances.
These billiards can also be installed on a cruise ship, a barge, on an airplane, etc. Finally, wherever there is enough room to be able to play around. There are no more limits !
Discover the models and technical characteristics of pool tables for yacht. As well as the magnificent Benetti yacht "Happy Me" where the Blacklight pool table and the Blackball foosball table have been installed.