To fully enjoy your passion all year round, there is nothing like an outdoor billiard table. Robust, design and quality are the key words of the Toulet outdoor range. With its extraordinary design worthy of a work of art, zoom in on the top-of-the-range Whitelight Outdoor billiard table.

Sumptuous and aerial lines
Because the pleasure of playing should not be limited to indoor practice, the Whitelight design billiard table is available in an outdoor version. This billiard table signed Toulet, breaks the codes of the traditional billiard. A futuristic silhouette drawn by aerial lines.
A model imagined by Toulet designers and entirely made in France. Billiard players who love unique objects and art can combine their passion with this unusual model. A design that is particularly attractive internationally.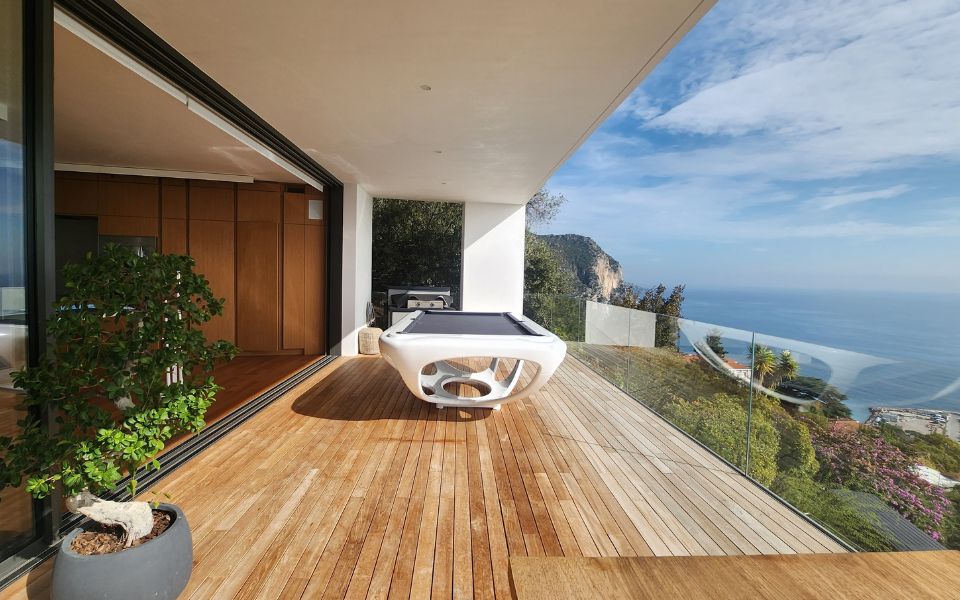 An exceptional piece designed to enhance your outdoor space
Made with specific materials designed for outdoor use, the Whitelight Outdoor pool table is a robust model. The resin structure and the galvanized steel frame are perfectly resistant to outdoor exposure. The paint used in car bodywork keeps its shine in the face of bad weather. The Simonis mat is specially treated for outdoor billiard practice with water repellent and anti-uv.
A meticulous selection of materials to offer an outdoor billiard table combining design and quality of play.
Customizable according to your desires, it fits naturally into all outdoor spaces. Pergola, terrace, outdoor living room. Whether the space is designer, contemporary or minimalist, the Whitelight Outdoor billiard table will fit perfectly.
For lovers of unique pieces and travel, this design billiard is also available in a gyroscopic version. Thanks to an integrated stabilizing platform, the Whitelight is one of the few design billiards that can be installed on a boat such as a yacht. An outdoor version without limits.