"L'Agence : l'immobilier de luxe en famille – Saison 3" aired on TMC, presented a magnificent luxury apartment located in the heart of Paris. An exceptional property renovated by Paris Design District for which Toulet created a personalized Broadway billiard table.
Déborah Hess, Interior designer and decorator
The Paris Design District agency was founded by Déborah Hess, interior architect and decorator. This specialist in renovation and interior design has been working on a number of exceptional projects. Whether it's a Haussmann apartment in the heart of Paris, a company's offices in La Défense or a vacation home in Saint Bart, Déborah Hess accompanies her clients from A to Z.
For the project located on Avenue Marceau in Paris, the interior designer completely redesigned the spaces. Realization of the plans, follow-up of the building site, interior arrangement. Each detail was carefully studied for a perfect alliance between luxury and refinement.
For the bar area, Paris Design District opted for a Broadway billiard table. The customization of the model allows a sublime harmony with the rest of the room, especially the bar furniture. This modern billiard table subtly blends with the Haussmannian charm of the apartment. For a muffled atmosphere, retro chic bar style, the architect has chosen darker colors with a design light game.
An atmosphere that contrasts with the immaculate white of the rest of the apartment. A subtle way to delimit the living spaces.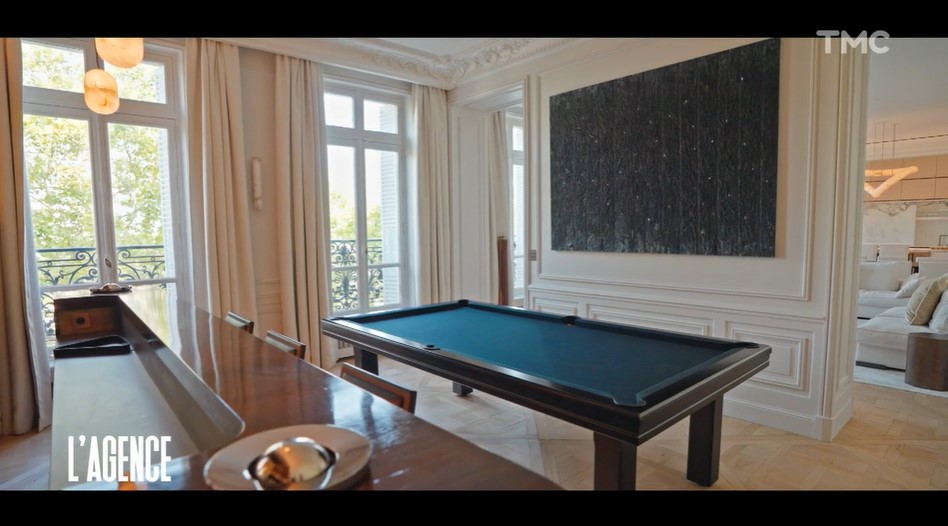 The Agency: luxury real estate in the family
This show, which has been on the air for three seasons now, highlights the daily life of the Kretz family, luxury real estate agents. In each episode, viewers can discover extraordinary properties. An immersion in the very closed world of luxury real estate in France but also abroad.