For the Villa 1912 private residence, the SC Edition by Stéphanie Coutas agency opted for the contemporary custom Broadway pool table. Zoom on this interior design project combining modernity and authenticity.
Stéphanie Coutas, interior designer and decorator
Selected as one of the 100 most influential interior designers by AD Magazine in 2020, Stéphanie Coutas is a renowned interior designer and decorator. Her projects are distinguished by a subtle blend of neoclassical and contemporary styles. Each project perfectly reflects the architect's values: elegance, joy of life and comfort.
Stéphanie Coutas created her agency SC Edition in 2005, composed of twenty international professionals. Whether it is a hotel, an apartment or a penthouse, one finds the refinement of a high-end lifestyle with a careful selection of materials and custom-made furniture.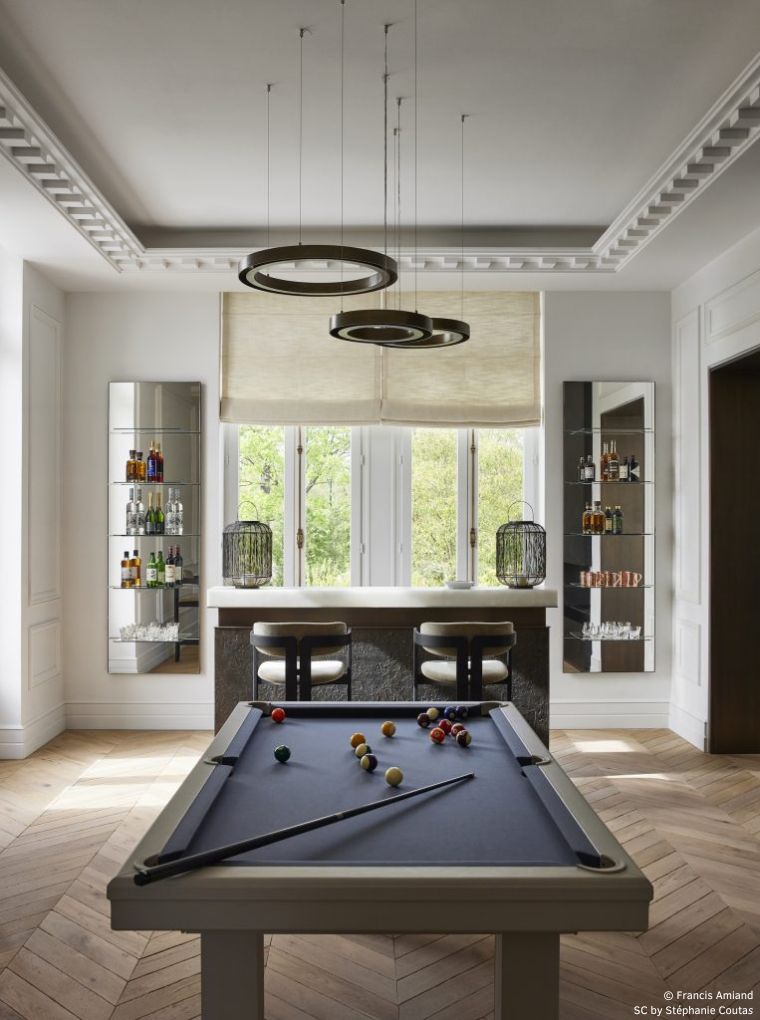 The custom Broadway pool table integrates the Villa 1912
Billards Toulet regularly collaborates with international interior designers. The agency SC Edition by Stéphanie Coutas called on Toulet for the Villa 1912 project. A sumptuous family home located in the Paris region.
The historic house was completely dismantled to rework the different spaces. The result is sublime with a sophisticated and design rendering. Natural colors such as grey and grey blend perfectly with the noble materials.
For the lounge and bar area, the choice was made for a Broadway pool table. A sober and chic contemporary model that fits perfectly in this universe. The customization of this modern billiard table allows a perfect harmony with the decoration. Size, play mode, color, each feature is carefully selected.
The house has other leisure and relaxation areas such as a home cinema, sauna, hammam or massage room.
The guideline was "to integrate 21st century technology while keeping the soul of the 19th century manor". A project more than successful translating the talent of the agency SC Edition. Discover the entire layout of Villa 1912 with the custom Broadway pool table.
Project created by SC Edition By Stéphanie Coutas
Photo credits : Francis Amiand